QUESTION: What makes the Caliber Smart Stern Rail™ smart?
ANSWER: The stern rail has been designed to be easily adapted to all the needs of a serious cruising yacht. Needs can be met because of the stern rail intelligent design. For example-- plug and play features.
CALIBER SMART STERN RAIL™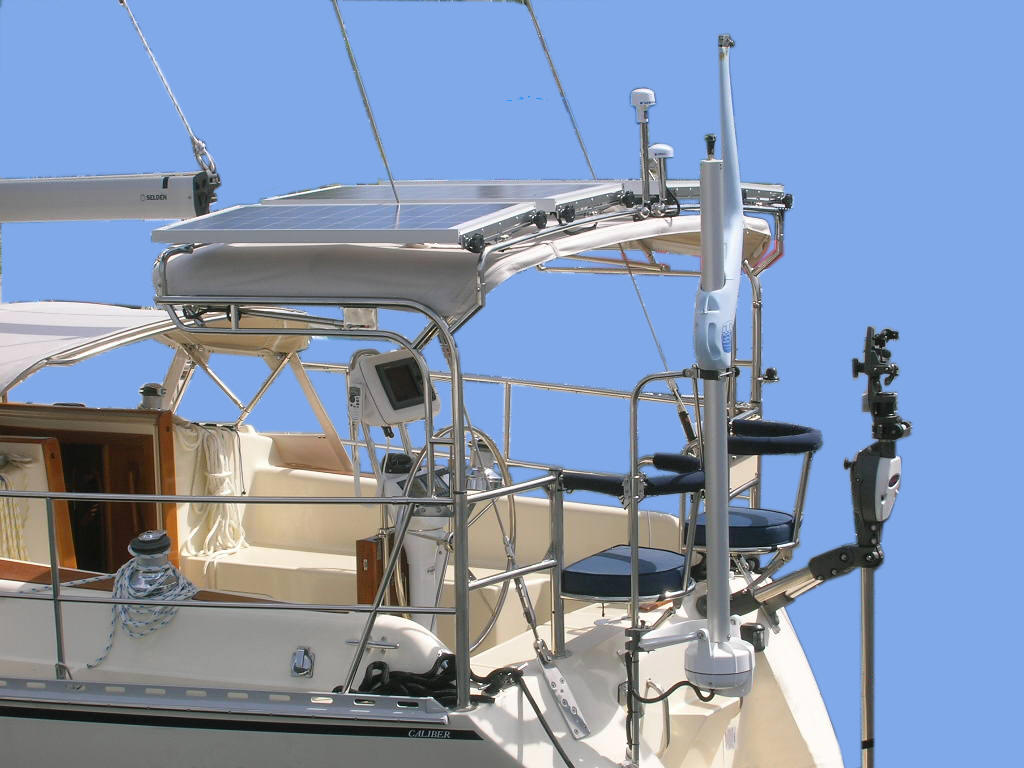 T
he Caliber Smart Stern Rail plug and play features are
well-thought out solutions that address the needs of a serious offshore yacht. It is built extra-strong which allows it to carry the loads of a multitude of optional equipment. Most notably, a storage bracket can be attached that will carry the heavier weight of a modern four-stroke outboard. A lifting crane can also be attached to the rail because the heavier motors cannot be man-handled like before.
Because of the strength of the stern rail, a canti-levered helmsman bimini can also be attached. This is a unique bimini design that allows clear access to port and starboard for handling docking lines. Plus, the support is strong enough to allow solar panels to be fitted directly on top of it completely clear of the shadow of the boom.
Plug and play cantilever bimini allows access to stern quarters for docking
Solar panel support system
Plug and play davits
Plug and play outboard motor lift
Extended stern rails can support additional solar panels
Secure space for man-overboard gear
Secure support for wind-generator gear
Cockpit lighting
Captain's seats