Log Date: October 8, 2006
Location: Lautoka, FIJI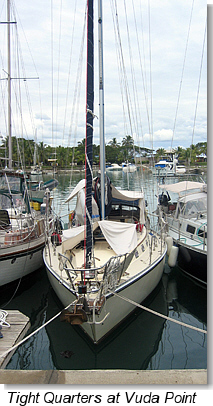 We have been vacationing at the Vuda Point Yacht Club (VPYC) for over a month enjoying a respite from the grueling life that we live.. It has been great being able to get off the boat without climbing into the dinghy and motoring to shore. There is a store nearby and we have been able to walk and get a soda and/or ice cream any time we like! We are spoiled rotten and at about US$10/day even us unemployed bums can enjoy it.

VPYC has designed itself to be a hurricane hole. This means it is a safe haven if a hurricane should strike Fiji which at least a couple of tropical storms do during the season. The storage on land or should I say "in-land" is interesting. They dig a hole for the keel of the boat and lower the hull to ground to rest on a number of used tires. The boat is propped up with the tires and sits comfortably on the ground so that the wind can't knock it over. I have pictures to prove it! Although we are about a quarter of a mile from the sea, if it gets really nasty I am certain that it's possible for a tidal surge that could flood the area and possibly float everyone away! We decided to go back to NZ instead of leaving our boat here even though many folks do.

Fiji is the place to come to surf. We have heard about and seen many surfers riding a wave, though us gals did not "hang ten". Most of the Fiji islands are surrounded by a reef that creates great waves but are not so great for navigating a sailboat. So far this year only a couple of cruisers found the reef with their keels with minor damage, minimal drama and with help were able to sail off the reef eventually. The cruising grounds are not easy, but Fiji is worth the trip and with diligence and caution the reefs do not present a major problem. Of course, most of the naviguessing is by reading the water since the charts for the outer islands leave much to be desired.


Presently we are waiting for a weather window to sail to New Zealand. Fiji has been great but since it is approaching hurricane season it is time to move on to safer cruising grounds.

Last year we had a crew member for this particular leg of our journey because the South Pacific Ocean between Tonga/Fiji and NZ can present an amazing array of weather, some good and some bad - very bad. This year from Fiji to NZ it will just be the two us us. In a lot of ways having crew is difficult because we have been doing this for 4 years and have our routine. Last year, even though our crew was a great cook and great sailor we found ourselves with extra time on our hands and missed our privacy during the passage - a 40' piece of fiberglass really isn't that big!
Generally Susan and I use a 6 hours on 6 hours off watch schedule. This gives each of time to unwind and get some shut-eye between watches. Many cruisers use a 3/3 or 4/4 which works for them but we found we were just too tired all the time so we opted for the 6/6. We feel pretty rested when we reach land and since we hardly see each other during the trip except for meals we don't feel closed in.

Will let you know when we clear-out and start our journey south.

Enjoying Life Onboard.
Susan and Laura
SV Mystic Traveler